I was lucky enough to grow up in a home with loved family pets, dogs, cats, fish, rabbits and horses.  Once I brought home 'my' first dog as an adult, a sweet Border Terrier named Sparky, my love for dogs bloomed and became an ambition to learn and spend as much time with dogs as I could.

Shortly after Sparky came home, Bailey and Maddy followed, both Border Terriers from the same lines as Sparky, then a few years later Leo, the little boy (Border terrier) who taught me everything I know about pet health and behavior and got me  into a lot of different dog sports, and then Jax my first rescue border collie, Myst another rescue from BCRO, who was a foster dog, but was just too sweet to let go, most recently new additions are a Leonberger named Gunner and another border collie rescue named Crave.  We have also enjoyed the company of many foster border collies over the years who have moved on to their forever homes.

With my interest and love of spending time with my dogs growing I started to dabble in many different dogs sports in my spare time, including Earthdog, Scent detection, Herding, Rally Obedience, Disc, Dock diving and my  absolute favorite Agility.
The sport of Dog Agility has been my main focus for close to 10 years, Jax and I are very proud to have been part of a select Team representing Canada at the World Agility Open in the Netherlands in 2019 & 2020(postponed to 2021).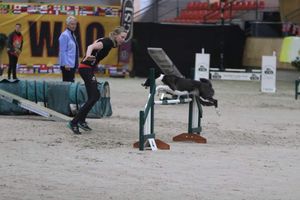 I am thrilled to be able to spend my days doing what is most joyful to me, being with dogs!
Here are just a few pictures of my family, my inspiration....
Tara  McIntyre